ESG KPI Engine
Master ESG KPI management
Financial services institutions are under increasing pressure to integrate ESG KPIs into every area of reporting. For example, FSIs worldwide are committed to disclosing their Financed Emissions (PCAF) for over USD 90 Trillion in assets. However, opaque data, non-standardized access and manual workarounds make capturing the necessary data slow and expensive.
SAP Fioneer's ESG KPI Engine provides a central solution to efficiently collect, review, calculate and store ESG-related single exposure and portfolio data – fast, immediate results anytime through the dashboard. Fully integrated with your architecture, our calculation module provides auditable standard calculations over your entire portfolio to enhance compliance and identify valuable transition opportunities.

Key capabilities
PCAF-based financed emissions calculations
Seamless financial architecture integration
Fully historized and auditable
Progressive updates in line with regulatory evolution
Covering Cross-portfolio ESG use cases
Reliable results delivered
12 weeks
onboarding to ensure
2023 disclosure
coverage of 7 asset classes and
all 5 PCAF data quality scores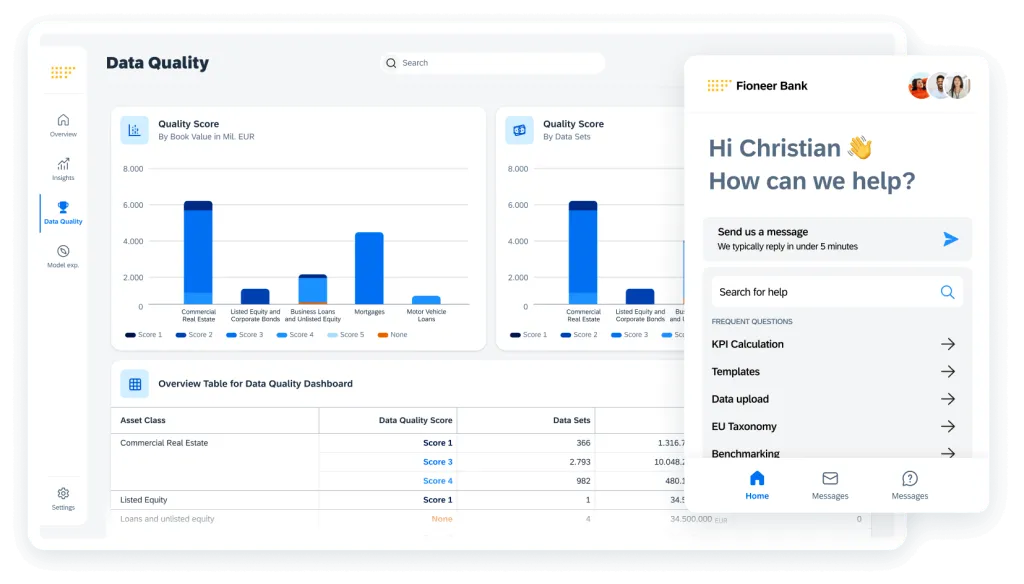 Fully compliant and audit-ready
Leveraging our extensive knowledge in financial product accounting, we bring the same meticulous approach to carbon accounting and ESG KPI calculations. This ensures audit-ready disclosures compatible with CSRD, EU Taxonomy, ISSB, TCFD, and more, with regulatory updates included in regular release updates.
Opportunity through transparency
Implement robust ESG policies with clear visibility into the CO2e values of your counterparty and portfolio, providing a firm foundation for relationship managers to capitalize on transition financing opportunities. With data driven insights and solid KPI benchmarking, banks and insurance companies can enable Green Bond placements without risk of greenwashing.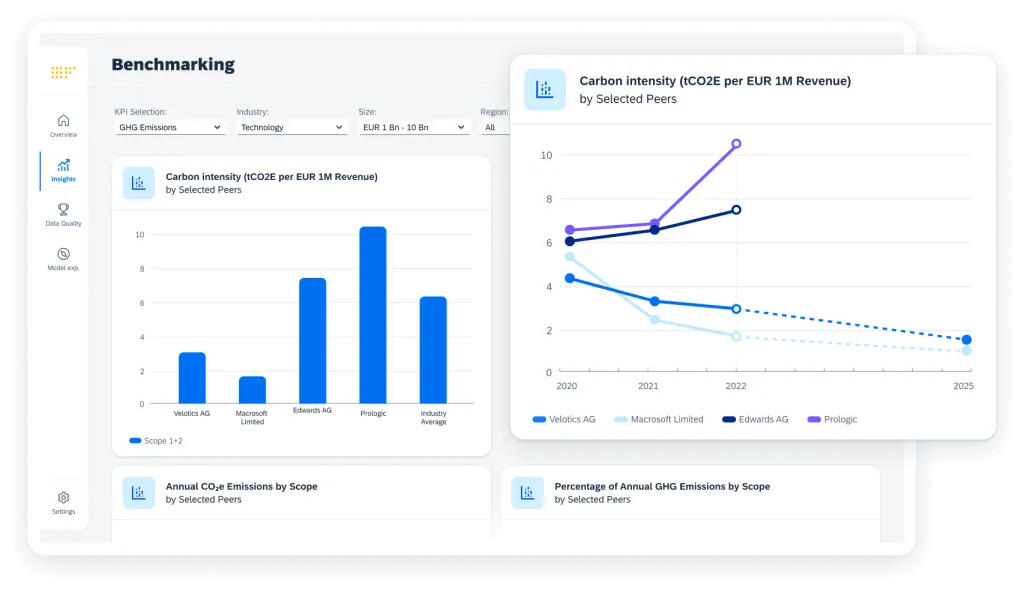 Rapid implementation and ongoing support
Stay ahead of regulation and market updates with standard software, ongoing support and maintenance, including software updates, bug fixes, user training and assistance. With expert advice and integrated systems, banks and insurance companies can focus on core activities with full confidence in their ESG infrastructure.
Learn about the ESG KPI Engine

Full portfolio coverage
Track key metrics with a single centralized hub for ESG data orchestration, with real-time emission transparency at both single exposure and portfolio levels.


ESG data marketplace
Track and combine data from relevant external ESG providers along with public statistical sources.


Architecture agnostic
Source and enrich valuable ESG data independent of your data management infrastructure.


Scalable use cases
Adapt reporting and analysis to your needs, from financed emissions and single exposure taxonomy to physical risk.


PCAF principle compliant
All calculations are based on PCAF principles, in line with a growing number of banks and insurers, covering >90 trillion in assets.


Robust, holistic reporting
Demonstrate compliance and commitment across your portfolio with fully historizable, audit-ready reporting.

Our solution is a pivotal step towards a greener financial industry. By equipping FSIs with the tools they need to navigate ESG regulation, we envision a future in which transparency and sustainability drive business decisions.
Maria Patschke, CEO of SAP Fioneer ESG Solutions
Explore related solutions
WHITEPAPER
Accelerating ESG efforts in banking
Stay up to speed with the evolving regulatory environment and learn how to leverage ESG data for sustainable business growth.
Read now
BROCHURE
Fioneer ESG KPI Engine: Cut through portfolio complexity
Find out more about how the Fioneer ESG KPI Engine works and how it could take ESG from burden to opportunity for your business.
Download now
BLOG
Leveraging ESG insights for sustainable loans and investments
Step beyond reporting for and leverage new opportunities in sustainable loans and investments.
Read now
Explore related solutions

Financial Services Data Management
A robust, central data management platform designed specifically for banks to unlock the power of their data.

Learn more

Financial Open Integration Framework
The all-in-one solution to streamline integration efforts and create efficient data journeys.

Learn more