Engagement Hub
Efficiently manage and expand distribution channels
In a rapidly digitizing market, insurers are compelled to balance new distribution models, emerging ecosystems and embedded insurance opportunities. To stay competitive in this environment, insurers need technology that enables them to be fast, agile and open to the ecosystems – even if their core insurance system doesn't.
The Fioneer Engagement Hub bridges the gap between core systems and new distribution models. With integration-ready infrastructure, insurers can accelerate proposition development and cut time-to-market from months to days to engage with new users, ecosystems and platforms through a single system.
Key capabilities
Low-code/ no-code proposition creation
Unified cross-channel product repository
Real-time proposition analytics
Ready-to-use connectors to core insurance systems
No-code API, widget & microsite integration
Cloud-native tech stack
The Engagement Hub acts as the central hub for bi-directional communication between the core insurance system and various digital channels. It consumes product definition from the core system and transforms it into a flexible data structure that is used as a starting template for the creation of digital insurance.
Business managers can conveniently modify specific elements such as packages, coverages, and attributes, including removal, default setting, or scoping. Upon completion, they can activate the unique API, widget or microsite associated with their created proposition with a single click.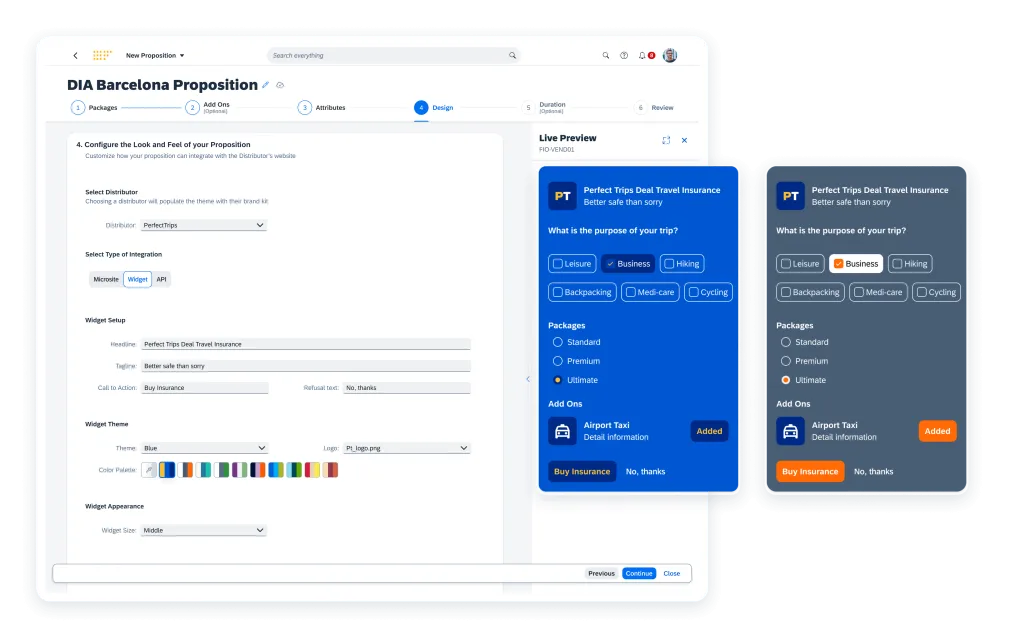 Unbeatable
speed to market
Stay ahead of competitors, assembling fit-to-market insurance offerings in just days or weeks. With reusable content, settings and rules across all business lines, your business teams can quickly create consistent, tailored product offerings. Our solution also empowers your distribution partners to customize propositions, fueling their growth while freeing up your resources for rapid scaling.
Future-proof
technology
Create and personalize new insurance propositions outside of your core system, refining and narrowing offerings based on data-driven insights that boost conversion rates. Distribution is simplified with partner-ready APIs, custom widgets, and tailored microsites, with connectors for core suites and accelerators for in-house or legacy core solutions, creating a single, unified, trackable product journey.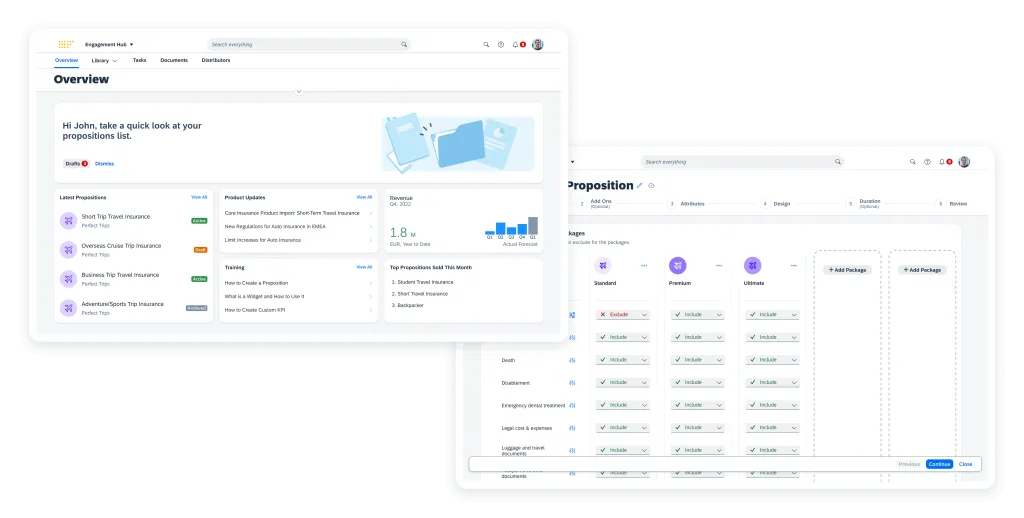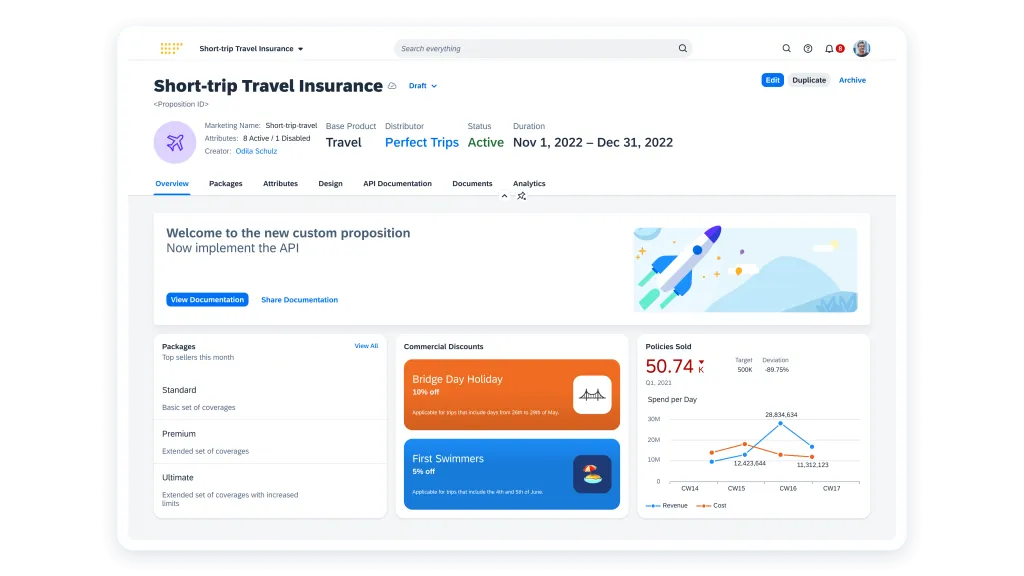 Reduced cost and overhead
Our user-friendly low-code/no-code product workflow enables business users to craft new propositions without IT dependency, freeing up resources and reducing operational overheads. By leveraging collected data, businesses can create personalized, relevant insurance propositions that resonate with your audience, cutting your customer acquisition costs (CAC) and boosting profitability.
Unleash
embedded insurance
Integrate your products into your customers' digital world, providing value when and where they need it most. With Plug & Play architecture and no-code widgets, you can rapidly launch new products at scale, expand into untapped markets without adding new costs, and monetize previously unviable segments.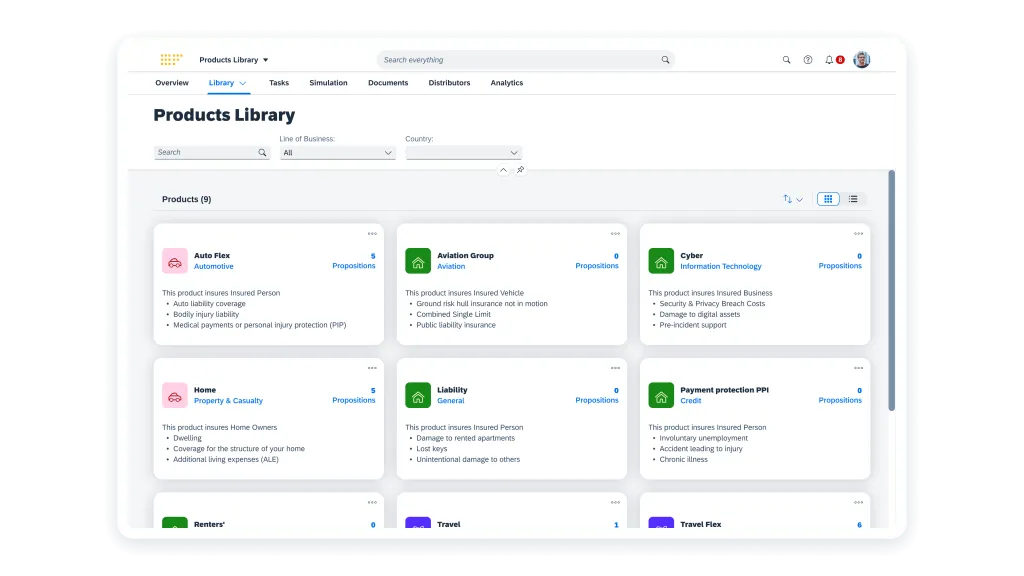 The Engagement Hub makes a strategic difference for insurance clients. It enables them to leverage new distribution channels and revenue models – without costly upgrades to their core systems.
Nikola Djokic, Managing Director – Insurance, SAP Fioneer

Tailored product packages
Curate a unique range of insurance packages (Standard, Premium, Ultimate) to offer concise, customer-centric digital insurance propositions for the end-customer.


Customizable coverages
Selectively include, exclude or make coverages optional, with the added granular capability to fine-tune various coverage attributes.

Versatile system integration
Embrace flexible distribution, with use-case-driven APIs, widgets, or microsites for seamless integration with distribution partners.


Consistent, connected brand
Configure proposition aesthetics and flow with distributors' corporate identity while retaining full control over your brand representation.

​​​Bundle products with services​​​
Bundle insurance products with insurance and non-insurance products and services of your distribution partners to create holistic propositions.

Live preview editor
Shape your customer experience in real time with our WYSIWYG (what-you-see-is-what-you-get) editor at each stage of the proposition design journey.

Data-driven insights
Leverage lightweight analytics tools to craft more profitable insurance offerings and make fully-informed business decisions.


Integrated KPI dashboard
The Engagement Hub provides clear visualization of historical data, key performance indicators, and vital ecosystem insights.

Download
Download the Engagement Hub borchure to find out more about the product.
Get the brochure
Contact
Reach out to our team to find out more about how the Engagement Hub can help you.
Get in touch