Finance Open Integration Framework
All-in-one streamlined
S/4 integration
In a digital business landscape, complex systems, isolated applications and specialist tools can quickly drive up costs, slow development and limit service levels. Banks need the ability to design, test and customize their own solutions based on their unique needs. SAP Fioneer's Finance Open Integration Framework (FOF) is the all-in-one solution to streamline your integration efforts, with standardized interfaces, reliable access to S/4 data and end-to-end lineages to create a consistent, efficient data journey.

Key capabilities
Single-point integration for S/4 architectures
Standardized reporting based on FSDM
Powerful, integrated rules engine
High performance data processing
Real-time testing and modelling
Comprehensive data lineage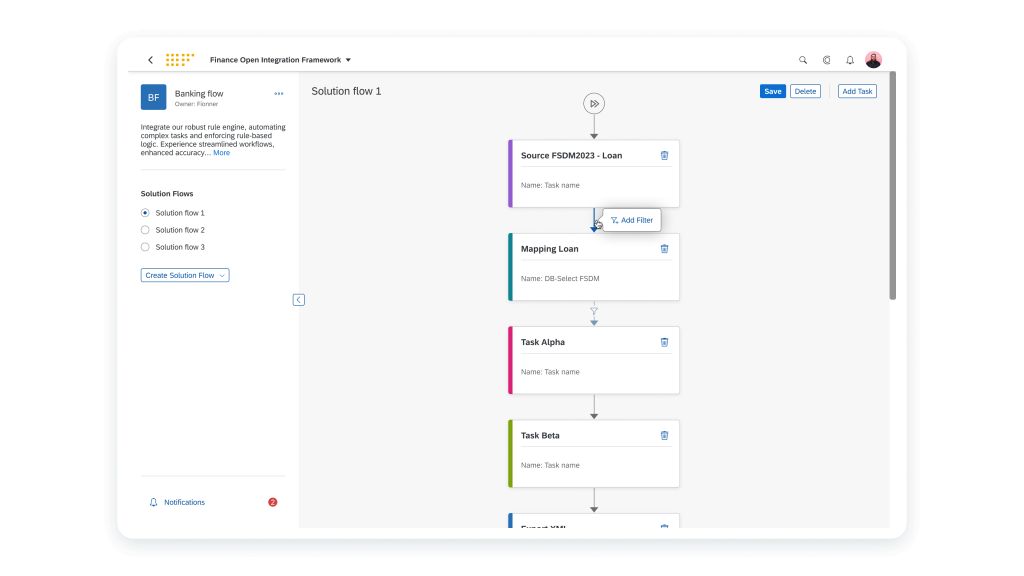 Single-point-of-integration
Connect your core systems through a single framework. Banks can create a consistent data process, combining SAP and third-party solutions to understand customers journeys in detail and offer tailored value.

Unified, standardized access
Streamline business performance and make decisions faster with standardized access points like the Financial Services Data Management solution. The Finance Open Integration Framework ensures consistent data loads across all interfaces, enhancing data integrity, and reducing discrepancies for analysis and reporting.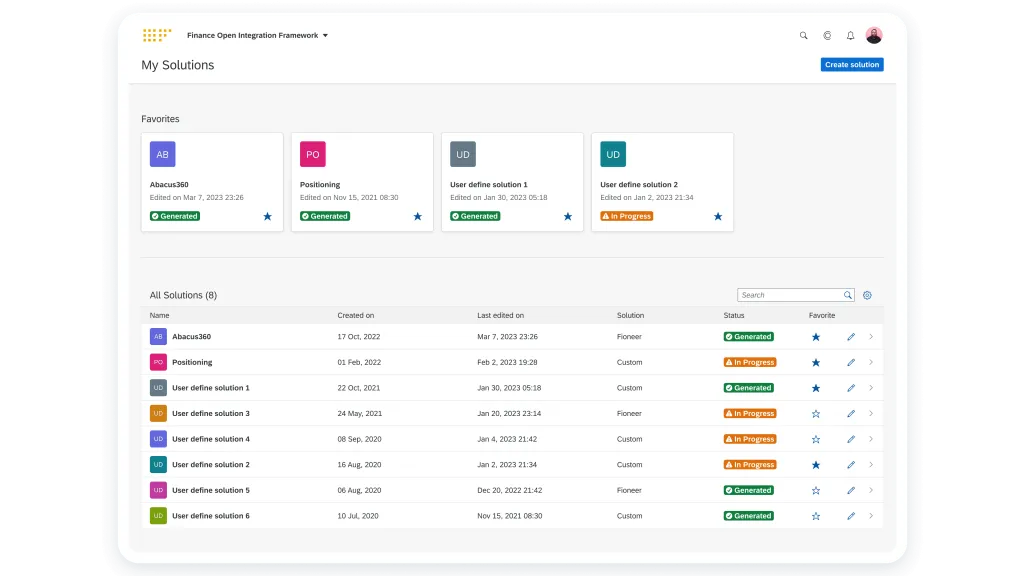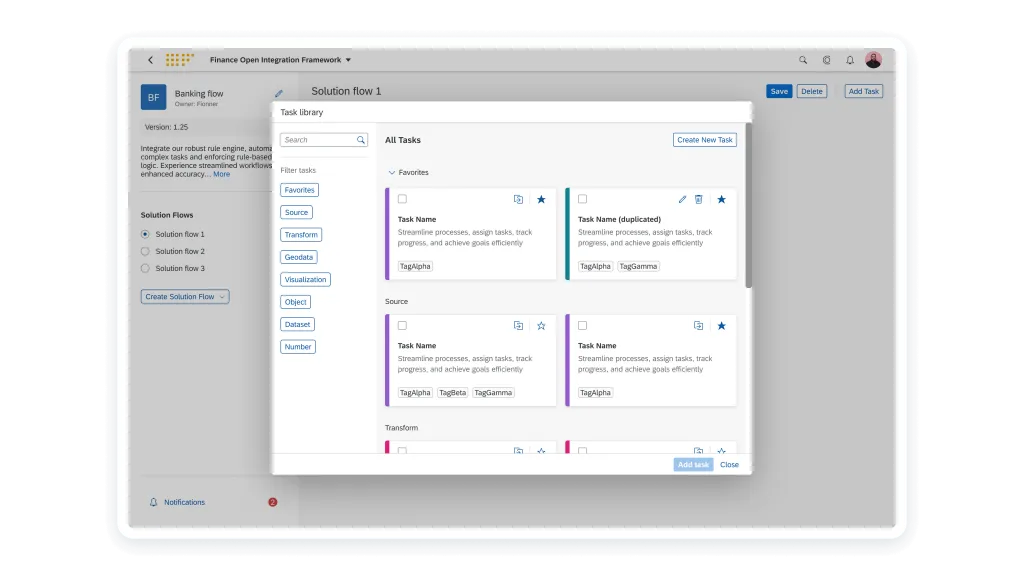 Empower your business analysts
FOF empowers users with an intuitive, flow-based approach to data modeling. This easy-to-use system minimizes the need for deep programming knowledge, allowing users to focus more on strategic business requirements and less on technical limitations.

It's about servicing the needs of clients today, but also the confidence that as new challenges emerge both in technology and in the economy, that you're working with a partner that can go on that journey with you
Tam Holmes, Chief Product Officer, The Bank of London


Future-proof data architecture
Build for innovation, with integration and access foundations for future technology, including IReF or BIRD.


Versatile deployment
Support for on-premise, private cloud, and SaaS deployment, based on the SAP BTP platform.


Ready-to-use content and services
Reduce time to market with standardized interfaces as well as simplified integration for third-party products.


Graphic-forward interface
Embrace powerful business modeling with on-the-fly testing directly within the modeling process, enhancing efficiency and accuracy.


Consistent data lineage
Deliver standardized data lineage information across all interfaces for efficient, scalable operations.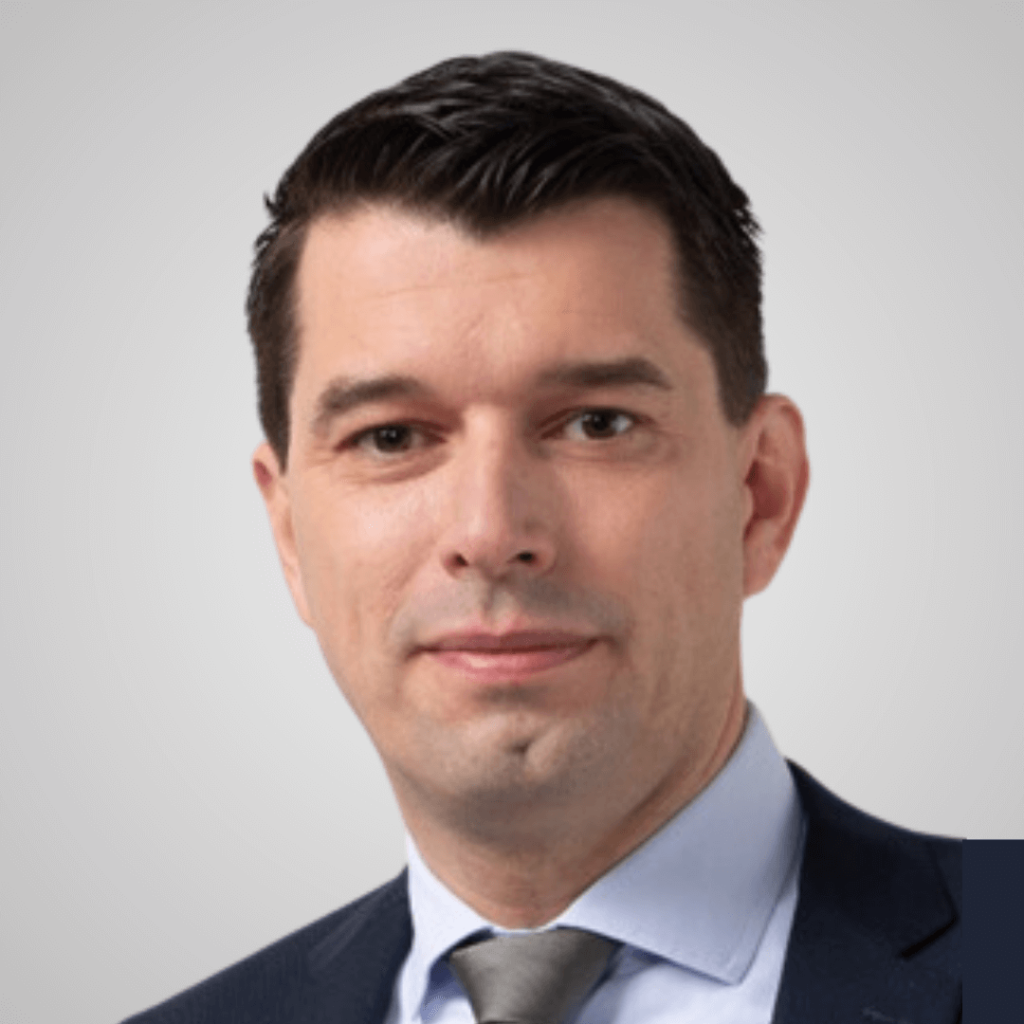 The Finance Open Integration Framework is the logical conclusion of our vision of providing a comprehensive integration platform that will enable our customers to connect their data and applications seamlessly end-to-end.
Marko Jendreck
Product Owner – Financial Open Integration Framework, SAP Fioneer
Managing Director – okadis – a Fioneer company
Explore related solutions

Financial Services Data Management
A robust, central data management platform designed specifically for banks to unlock the power of their data.

Learn more

Financial Control
Bringing reconciliations, manual adjustments, and substantiation to a central intelligent platform.

Learn more
Tap into a connected world with smooth integrations
Talk to us about the Finance Open Integration Framework.
Get in touch