Beyond B2C: How embedded finance is shaking up B2B
We were recently featured in Alt-Fi's Embedded Finance: The New Frontier of Lending where, along with companies including Provenir, Freedom Finance, we were asked:
How are lenders adapting their offerings to embrace embedded finance?
What are the limits of embedded finance?
Why is the embedded insurance sector poised to become a $700bn industry in its own right?
Where are embedded payments going next?
Are consumers ready to adopt embedded financial services?
Across eight articles, the report explored how embedded finance is revolutionizing the financial world and the lending space in particular and featured expert contributions from senior staff at Bain & Company, 11:FS, True Layer, Index Ventures and more.
Further to this, provenir's Managing Director of UK&I Chris Kneen looked at how AI and instant decisioning are redefining lending by improving risk assessment using new data sources to increase inclusivity. While Freedom Finance CEO Emma Steely examined the challenges and opportunities embedded finance presents.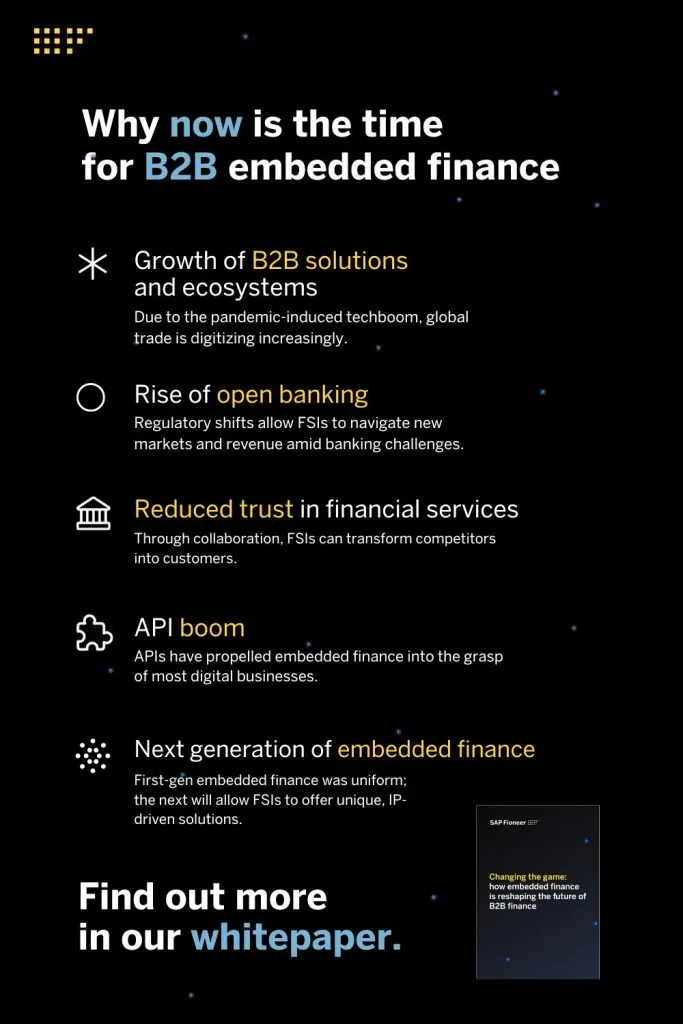 In our article, we looked at how embedded finance is shaking up the B2B space. You can read a version of that article below.
The embedded finance revolution
The explosion of embedded finance has been reshaping the entire financial services industry. Now businesses of all types can uplevel their services with a number of transformative use cases. However, to date, these innovations have mostly been in the B2C market. Not anymore. By embedding financial products into B2B processes, like enterprise resource planning (ERP) systems, financial services institutions (FSIs) can transform the way businesses work, and leap ahead of competitors.
The five mega-trends driving B2B innovation
The way banks digitally engage with their business and corporate clients is changing. Fast. This is being driven by five mega-trends:
Growth of B2B solutions and ecosystems: Global trade and B2B commerce are becoming increasingly digitized. They're using a multitude of integrated tools to conduct business, and banking services are being forced to catch up.
Rise of open banking: Regulatory changes are providing FSIs with the opportunity to enter new markets and serve new client segments with value-adding, non-banking propositions.
Changing financial services landscape: New FinTech challengers and changing consumer trust levels are forcing FSIs to adapt. Opening up their infrastructure and services will turn competitors into customers.
API boom: Increased adoption of APIs has put embedded finance within reach of almost any digital business.
Next generation of embedded finance: FSIs are moving away from repeatable embedded finance models to create differentiated propositions on top of their own IP.
Excited to tap into the opportunities in B2B embedded finance? Join us on our webinar on the 20th of June where we discuss the megatrends in B2B embedded finance, the key enablers to make it a reality and show you a real-life demo of use cases. Secure your spot here!
Leveraging data to drive engagement
Now is the time for FSIs to capitalize on these five trends and leverage embedded finance to transform the financing of B2B transactions. Rather than expanding breadth of channels, embedded finance can help FSIs to drive depth of engagement across each one.
Embedded finance unlocks a range of new possibilities – and a realm of new data. Permissioned access to that data is essential to drive change, and public-private sector collaboration is essential to maximize the benefits.
B2B embedded finance could be particularly impactful in 3 areas:
Digital trade
Digital payments
Digital treasury
The challenges of trade financing
Stress in the supply chain can make managing working capital a challenge. But when companies turn to banks for financing options, their needs aren't met.
Long wait times:  Manual data requests and time-consuming negotiations slow down funding.
Expensive financing: Funding is based on personal guarantee instead of company financial performance, and marked up to protect banks from the fraud risk of low volumes of unverified data.
Meanwhile, FSIs are struggling to build and offer their products to a larger group of companies that need them. To stay relevant through market disruption, they need to:
Streamline internal processes: KYC and customer onboarding are slow and frictional
Offer personalized solutions: Embracing technology to create dynamic solutions tailored to evolving customer needs will help FSIs future proof, and reduce their risk of losing market share.
But it's hard for them to do so. FSIs lack the agility, business process and technical expertise to build and integrate finance solutions within their customers' existing tech infrastructure, like ERP systems.
Embedding financing within ERPs
FSIs can innovate by leveraging data, and an interaction platform with which to use it.
Therefore ensuring that all relevant financing data is consolidated within clients' ERP systems means FSIs can seamlessly integrate financial products into clients' business processes. This data gives FSIs valuable insights into customer behavior and business processes, which they can use to inform new and needed embedded finance solutions.
Moreover, a robust data infrastructure supports the embedding of finance products into existing business processes, making it easier for companies to adopt these solutions – and ultimately leading to a more cohesive and efficient financial ecosystem.
A data interaction platform for FSIs
To realize the value of data and embed financial solutions across the ecosystem, an interaction platform is required. This technological foundation layer allows individual development of FSI-branded use cases, and creates efficiencies in 4 ways:
Enabling adoption at scale
Leveraging existing standards
Influencing the development of additional standards and protocols
Enabling collaboration between eg. embedded app developers and fintechs across the financial ecosystem.
SAP Fioneer provides the foundation to build an interaction platform as a service. Building the software for financial products in-house gives SAP Fioneeer an in-depth understanding of both the financial business and corporate trade and treasury processes. As a strategic partner of SAP, Fioneer has access to business transactions conducted via SAP platforms, providing clients with a comprehensive, future-fit foundation for innovation.
Embedding financial solutions in SAP
While not being limited to SAP software solutions, we have the potential to leverage them to reach our vision. SAP customers generate 87% of total global commerce (USD $46 trillion). 99 of the 100 largest companies in the world are SAP customers, 97 of the 100 greenest companies in the world run SAP, and 85 of the 100 largest companies in the world are SAP S/4HANA customers (numbers valid as of October 25, 2022). Including financial services in SAP software solutions allows for easy consumption by SAP users.
A changed game
Embedded finance has already changed the B2C space. However, recent megatrends in corporate finance suggest the impact on B2B can be just as if not more seismic. Embedded finance can be used not just to utilize vast swathes of existing data but to create entirely new data sets and use cases. The question now is which FSIs are going to move first and take advantage of this opportunity.
Find out more about how to seize the embedded finance opportunity ioin our webinar on the 20th of June where you can see a live demo of use cases with Vishal Shah, Head of Embedded Finance, and Dr. Natascha Bell, Senior Solutions Manager. Secure your spot now here!